CLIENT: THE WALT DISNEY RESORT
PROJECT: DISNEYLAND 50TH BIRTHDAY EVENT
JULY 17, 2005 - ANAHEIM, CA
PHOTOGRAPHS BY ADRIENNE HELITZER & TAMMY LECHNER
ALL IMAGES COPYRIGHT THE WALT DISNEY RESORT/2005©
______________________________________________________________________________________________________________________
PROJECT DESCRIPTION:
Documentation of Disneyland's Official "50th" Birthday Celebration. Adrienne Helitzer and Tammy Lechner photographed the event for Disneyland Publicity Department. The images were used for publicity, promotion and transmission to media - news wires, newspapers, magazines, books and on-line sites.
More than 80,000 visitors came from around the world to participate in the park's historic birthday celebration.
______________________________________________________________________________________________________________________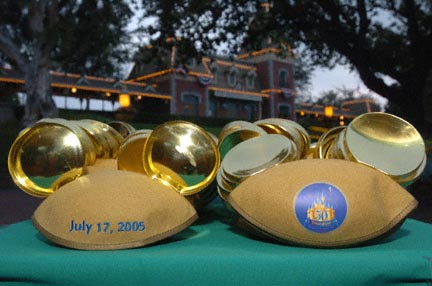 As first light appears at the main gates of Disneyland thousands of Golden Mickey Ears were lined up at to be given away to guests as they went through the turnstyles, July 17 2005, in celebration of Disneyland's 50th Birthday. (Photograph by Adrienne Helitzer/for the Disneyland Resort©)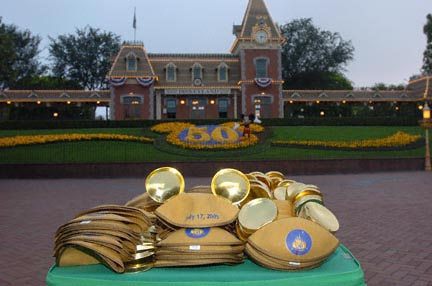 By 6.15 am Sunday, July 17, 2005 thousands of "Golden Ears" are in place to set the stage for Disneyland's 50th Birthday Celebration. More than 80,000 guests streamed through the theme park's turnstyles to participate in the resort's birthday event. (Photograph by Adrienne Helitzer/for the Disneyland Resort©)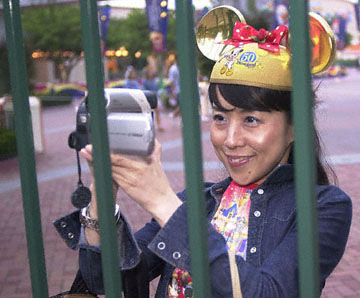 Mako Nagaosa of Tokyo, Japan arrives before 6 am at the gates to Disneyland and takes some video while waiting for the turnstyles to open at 7 am. (Photograph by Tammy Lechner/for the Disneyland Resort©)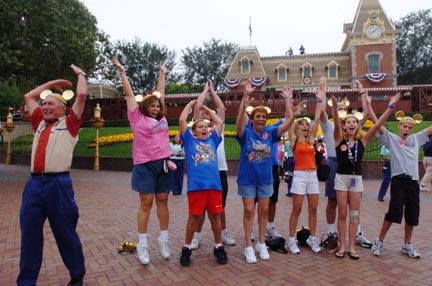 As always the tradition at Disneyland, a "first family" is choosen to count down the final minutes prior to the opening of the gate. On July 17, 2005, Disneyland's 50th Birthday, the "first family" included the following relatives: Carine and Tony Phelps of Jamestown CA, Andrew Hull , 9, Sherry and George Hull, Tracy and Steve Quinn with daughter Michelle,16 and son Daniel, 14. Here the group jumps into the air as the gates open to the public for the big celebration day. (Photograph by Adrienne Helitzer/for the Disneyland Resort©)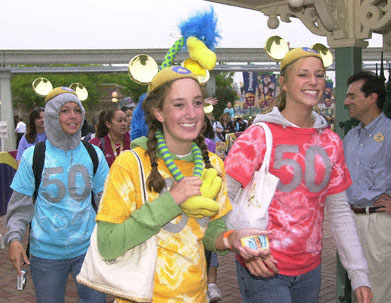 Excited guests begin arrving at Disneyland as soon as the gates opened at 7 am on July 17, 2005, Disneyland's 50th Birthday Event. To commemorate the date, these three young women wear tie-dyed shirts with the number "50" imprinted on the front. (Photograph by Tammy Lechner/for the Disneyland Resort©)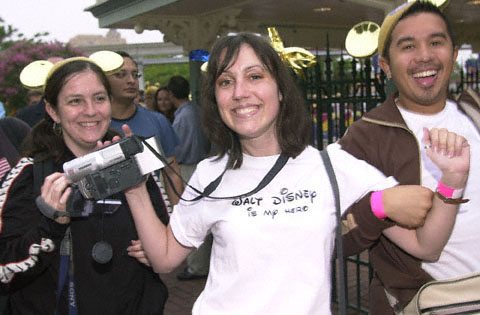 Wearing a t-shirt exclaiming "Walt Disney is my Hero," an enthusiastic guest celebrates coming through the turnstyle arrving at Disneyland as soon as the gates opened at 7 am. (Photograph by Tammy Lechner/for the Disneyland Resort©)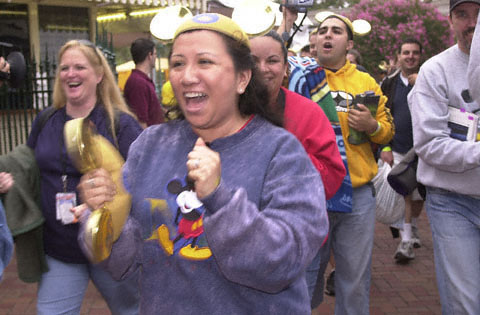 Early arrivals charge toward Main Stereet USA to take their place for the historic birthday celebration.(Photograph by Tammy Lechner/for the Disneyland Resort©)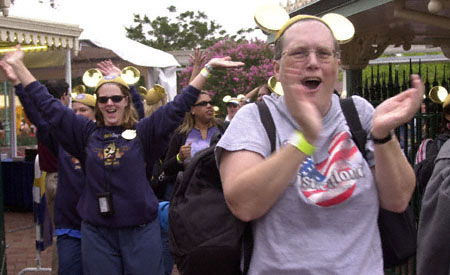 Guests applaud and cheer their arrival into the Magic Kingdom after waiting through the night to be among the first visitors to the park on July 17, 2005, Disneyland's 50th Birthday Event. (Photograph by Tammy Lechner/for the Disneyland Resort©)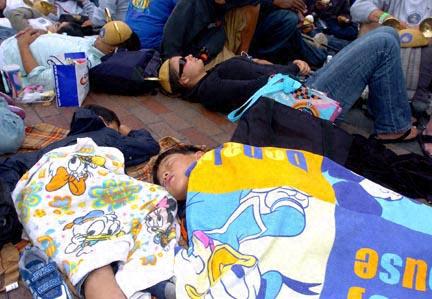 Two children visiting Disneyland from Japan fall asleep near other guests on Main Street USA inside the theme park's hub as they wait for the Offical Birthday Celebration Ceremony to begin later in the day at Sleeping Beauty Castle. These guests were among the first groups let into the park at 7 am. (Photograph by Adrienne Helitzer/for the Disneyland Resort©)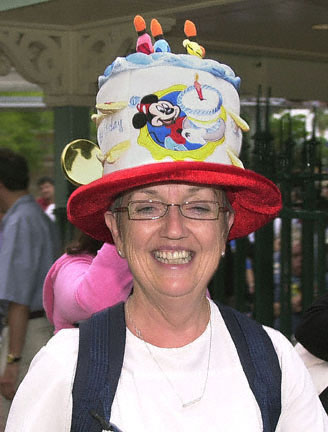 This guest arrives with a birthday cake hat complete with golden mouse ears to commemorate the event. (Photograph by Tammy Lechner/for the Disneyland Resort©)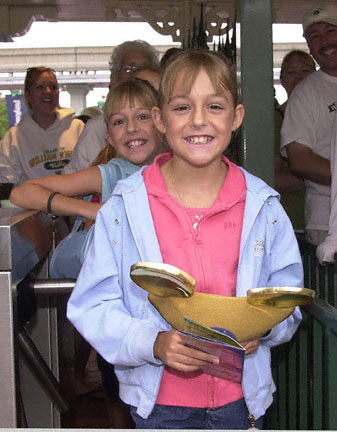 Guests are excited to receive a free pair of golden Mickey Mouse ears commemorating the park's birthday as the pass through the turnstyles. (Photograph by Tammy Lechner/for the Disneyland Resort©)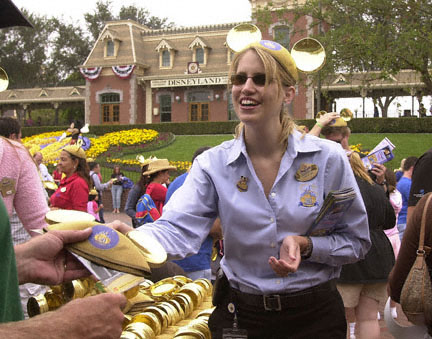 Disney cast member Annika Chase greets guests arriving at the theme park's turnstyles on the morning of Disneyland's 50th Birthday Event, July 17, 2005. Each guest to the park received a free pair of golden mouse ears to commemorate the date. (Photograph by Tammy Lechner/Disneyland Resort©)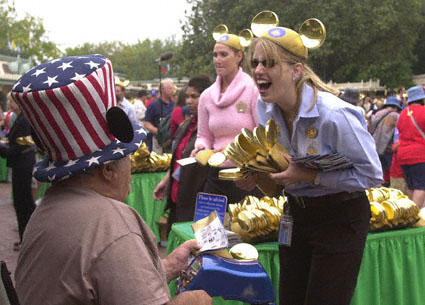 Disney cast member Annika Chase enjoys this guest's special "Disney" hat bearing the stars and stripes along with mouse ears. (Photograph by Tammy Lechner/Disneyland Resort©)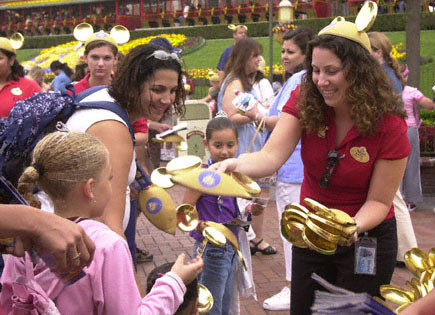 Disney cast member Katie Hanneman hands out golden mouse ears to guests arriving at the theme park's turnstyles on the morning of Disneyland's 50th Birthday Event, July 17, 2005. (Photograph by Tammy Lechner/Disneyland Resort©)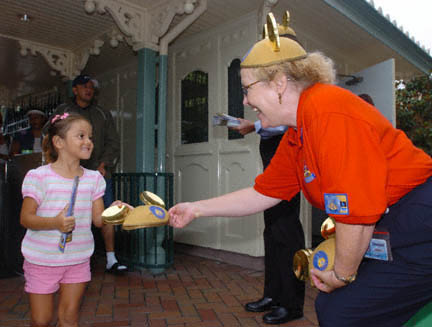 Sarah Guadarrame, 4, of El Monte, CA gives Disneyland cast member Rebecca Caldwell a big smile as she recieves a free pair of Golden Mickey Ears early Sunday morning, July 17, 2005,to help celebrate Disneyland's 50th Birthday (Photograph by Adrienne Helitzer/for the Disneyland Resort©)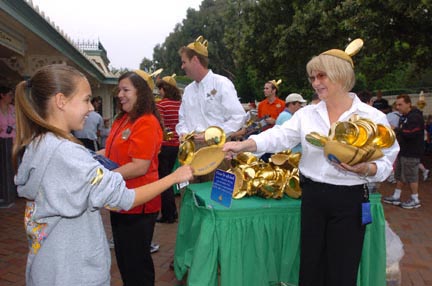 Jenna Fabrique, 11, of San Ramon, CA passes through the Disneyland turnstyle early Sunday morning with a smile as cast member Cheryl Fallon hands her a free pair of Golden Mickey Ears to help celebrate Disneyland's 50th Birthday, July 17 2005. (Photograph by Adrienne Helitzer/for the Disneyland Resort©)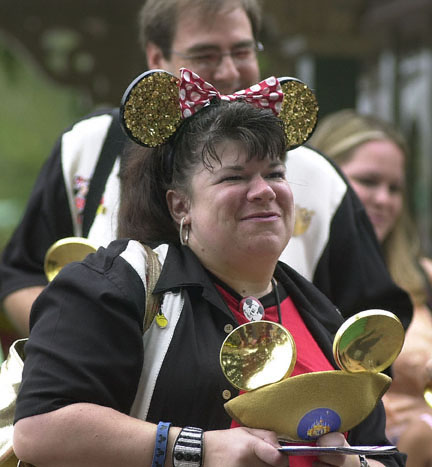 Some guests arrived with their own customized version of mouse ears, yet were surprised to receive a free pair of mouse ears, compliments of Disneyland, at the entrance gate.(Photograph by Tammy Lechner/Disneyland Resort©)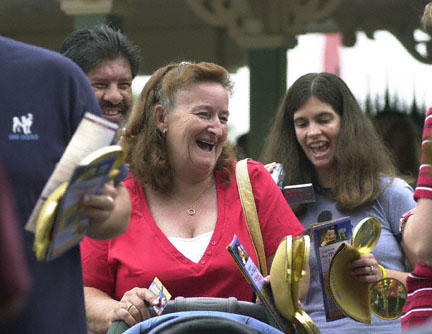 Betty Smith of Long Beach shows her excitement as she passes through the park's turnstyles. (Photograph by Tammy Lechner/Disneyland Resort©)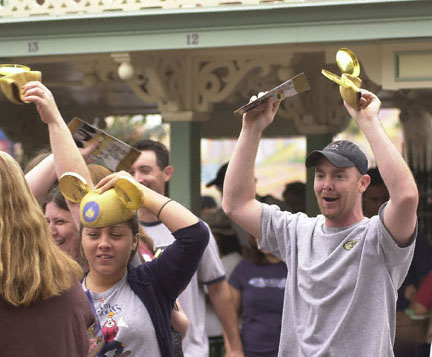 Guests arrving at Disneyland the morning of July 17, 05 are delighted to receive a free pair of golden mouse ears to commemorate the theme park's 50th birthday anniversary. (Photograph by Tammy Lechner/Disneyland Resort©)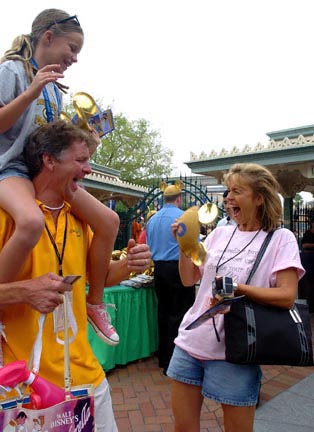 Patricia Fitzgerald, at right, of Westlake Village, CA, is exhuberant that she and husband Brian, along with their 10-year- old daughter Cortney are among the first guests into Disneyland early Sunday morning. (Photograph by Adrienne Helitzer/for the Disneyland Resort©)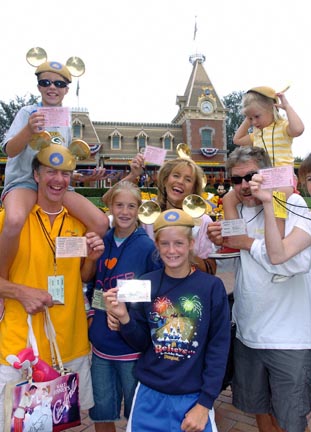 Brian and Patricia Fitzgerald along with their daughter Cortney, sitting on her dad's shoulders, are joined by some friends to show off the "E Tickets" they made especially to bring to Disneyland's 50th Birthday, July 17, 2005. The "E" ticket refers to a ticket guests used to go each individual attraction at Disneyland when the park first opened in 1955. Today the "E Ticket" symbolizes the park's early history and unavoidable lore. (Photograph by Adrienne Helitzer/for the Disneyland Resort©)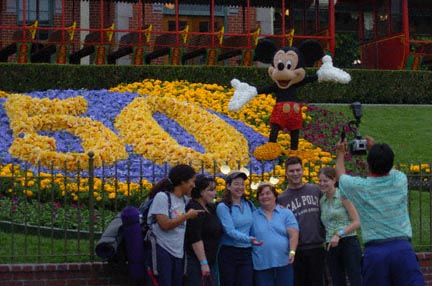 Guests lineup for their offical" Kodak photo moment" taken by a Disneyland cast member in front of the Mickey flower display, which sported a huge "50" on the day of the famed theme park's "50th Birthday." The flower display is in front of the Disneyland Train Station at The Main Gate entrance.( Photograph by Adrienne Helitzer/for the Disneyland Resort ©)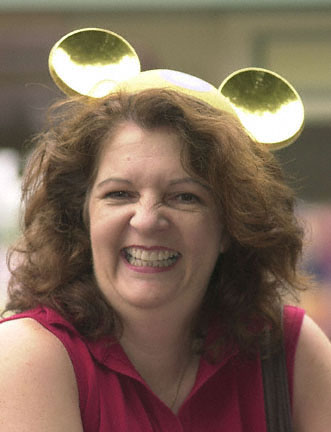 Anne La Voie of Chatsworth shows her excitement to attend Disneyland's "50th" Birthday celebration.. La Voie noted that she also attended Disney's "25th" Birthday celebration in 1980. (Photograph by Tammy Lechner/Disneyland Resort©)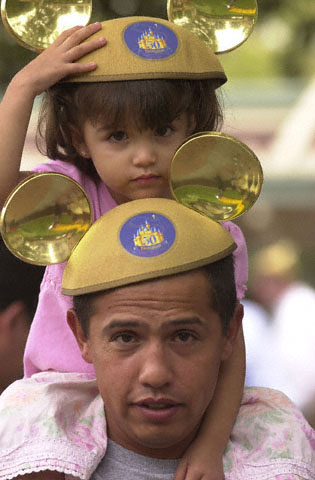 Miguel Garcia and daughter Alicia Garcia of Apple Valley, Calif don their ear hats as they enter the resort for the birthday bash event. (Photograph by Tammy Lechner/Disneyland Resort©)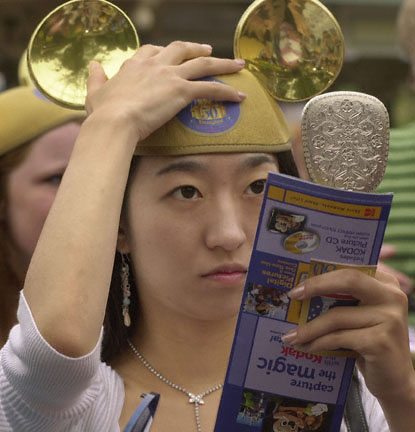 Kim Sooyoung of Korea uses a vanity mirror to make certain her ear hat is on just right. (Photograph by Tammy Lechner/Disneyland Resort©)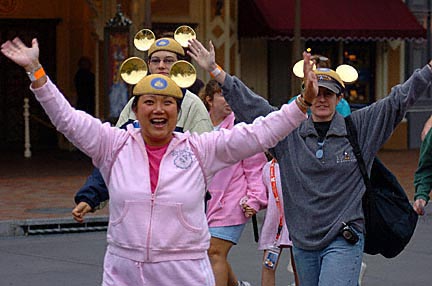 The wait is finally over as Kimberly Thompson, wearing bright pink, of Yorba Linda, CA screams with delight as she enters Disneyland to help celebrate the famed theme park's 50th Birthday celebration early Sunday morning, July 17, 2005. (Photograph by Adrienne Helitzer/for the Disneyland Resort©)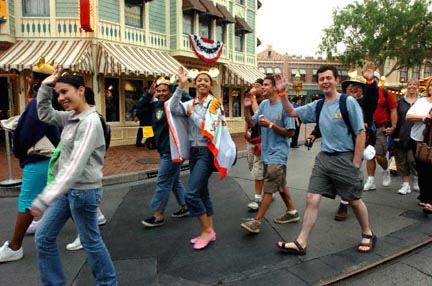 Crowds scream and yell, raising their hands and smiling as they are among the first guests to stream down Disneyland's Main Street USA for the celebration of Disneyland's 50th Birthday, July 17, 2005. (Photograph by Adrienne Helitzer/for the Disneyland Resort©)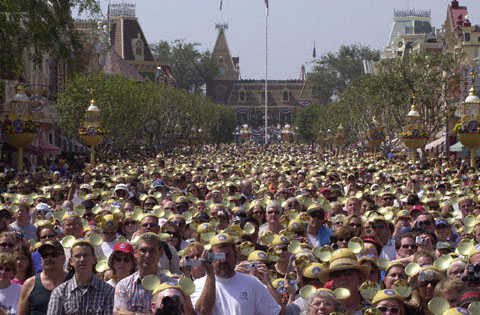 80,000 guests line Main Street with golden mouse ears as they watch the Birthday Celebration event unfold at Sleeping Beauty Castle. (Photograph by Tammy Lechner/Disneyland Resort©)
Olivia Reinoso, 5, of Camarillo, CA, sits on top of her father Marc Reinoso's shoulders while surrounded by thousands of guests wearing Golden Mickey Ears as they wait on Main Street USA for Disneyland's Offical Birthday Celebration event to begin at Sleeping Beauty Castle. (Photograph by Adrienne Helitzer/for the Disneyland Resort©)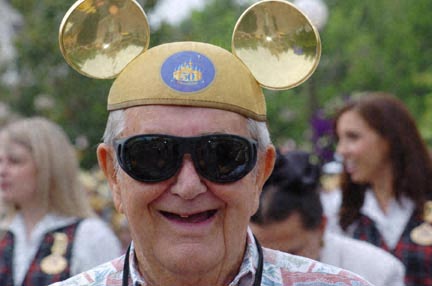 Former President of Disneyland, Jack Lindquist, gets a charge out of wearing a pair of Mickey Mouse Golden Ears as he celebrates Disneyland's 50th Birthday, Sunday morning, July 17, 2005. (Photograph by Adrienne Helitzer/for the Disneyland Resort©)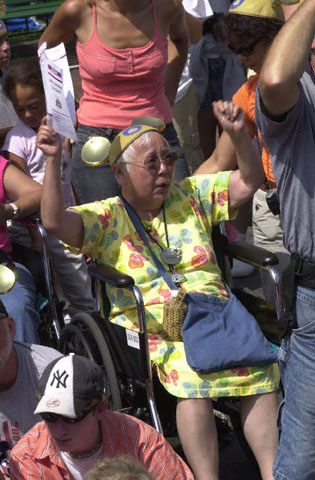 Guests celebrate along Main Street as they watch the Birthday Celebration event unfold at Sleeping Beauty Castle. (Photograph by Tammy Lechner/Disneyland Resort©)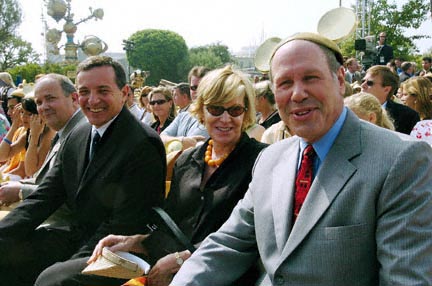 Disneyland Resort executives and management enjoy a front row seat as they wait for the 50th Birthday ceremony to begin at Sleeping Beauty Castle, July 17, 2005. From left to right: President of Parks and Resorts, Jay Rasulo, Bob Iger President-COO, Jane Eisner, and CEO Michael Eisner. (Photograph by Adrienne Helitzer/for the Disneyland Resort©)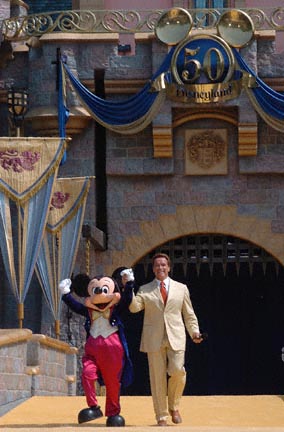 Mickey Mouse escorts California Govenor Arnold Schwarzenegger down the golden carpet, greeted by a loudly cheering crowd of 80,000 guests. Gov. Schwarzenegger delivered a keynote speech during a ceremony at Sleeping Beauty Castle honoring the theme park's 50th Birthday, July 17, 2005. (Photograph by Adrienne Helitzer/for the Disneyland Resort©)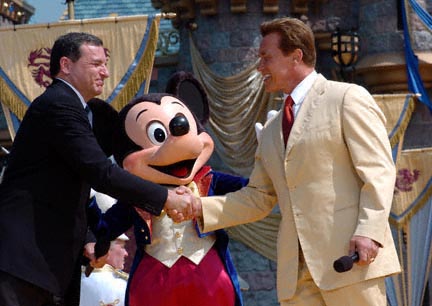 California Governor Arnold Schwarzenegger gets a congratulatory handshake from Disneyland President and COO, and CEO elect, Bob Iger, and Mickey Mouse after his keynote speech, July 17 2005, on stage at Sleeping Beauty Castle during Disneyland's 50th Birthday celebration. (Photograph by Adrienne Helitzer/for the Disneyland Resort©)
CEO of the Walt Disney Company, Michael Eisner, speaks to a crowd of more than 80,000 guests and cast members during the 50th Birthday of Disneyland "rededication ceremony" at Sleeping Beauty Castle at 10 am Sunday, July 17, 2005. (Photograph by Adrienne Helitzer/for the Disneyland Resort©)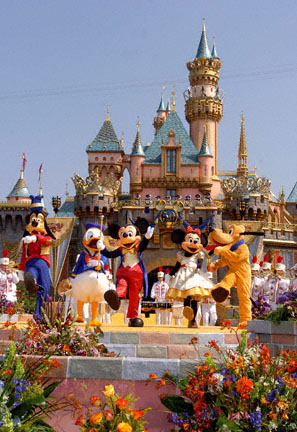 The "Fab Five," Goofy, Donald Duck, Mickey Mouse, Minnie Mouse and Pluto, dance on stage to the music "Mickey Mouse Club March" during the 50th Birthday celebration of Disneyland, July 17 2005. (Photo by Adrienne Helitzer/for the Disneyland Resort©)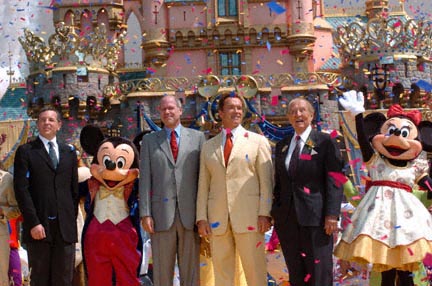 Confetti flies around (from left to right) President and COO of the Walt Disney Company, Bob Iger, Mickey Mouse, CEO Michael Eisner, CA Govenor Arnold Schwarzengger, Art Linkletter, and Minnie Mouse at Sleeping Beauty Castle during Disneyland's 50th Birthday celebration. (Photograph by Adrienne Helitzer/for the Disneyland Resort©)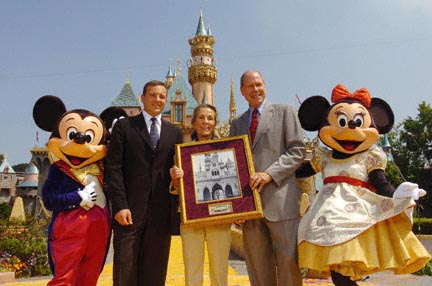 A historic moment onstage during Disneyland's 50th Birthday celebration includes Mickey Mouse, COO and President Bob Iger, Diane Disney Miller, daughter of Walt Disney, CEO Michael Eisner, and Minnie Mouse posing for an offical portait. Diane holds a framed black and white photograph of her father Walt created by Disneyland's chief photographer Renie Bardeau in the early 60s showing her father Walt strolling through the Castle one foggy June morning before the park had opened for the day. (Photgraph by Adrienne Helitzer/for the Disneyland Resort©)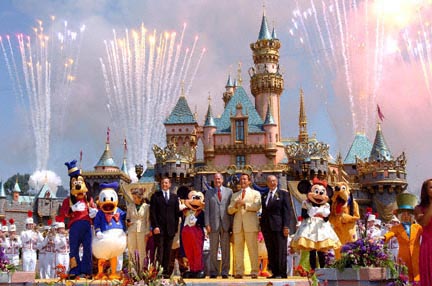 A HUGE birthday celebration, complete with daytime fireworks at Sleeping Beauty Castle, unfolds as Disneyland celebrates its 50th Birthday. On stage, from left to right, are Goofy, Donald Duck, Diane Disney Miller, daughter of Walt Disney, President and COO of the Walt Disney Company Bob Iger, Mickey Mouse, CEO Micheal Eisner, California Governor Arnold Schwarzenegger, entertainer Art Linkletter, Minnie Mouse and Pluto.
(Photograph by Adrienne Helitzer/for the Disneyland Resort©)
(click here to return to the STILL Productions assignment archive menu)